Crowdfunding for social programs and for start-ups is growing.  In fact now, common public will be able to invest in the IPOs for crowdfunding projects.  Using the WordPress, one can create a very useful website.  Here are  a few good themes to help you create one of those sites, if you want to start one of those websites.
Crowdfunding theme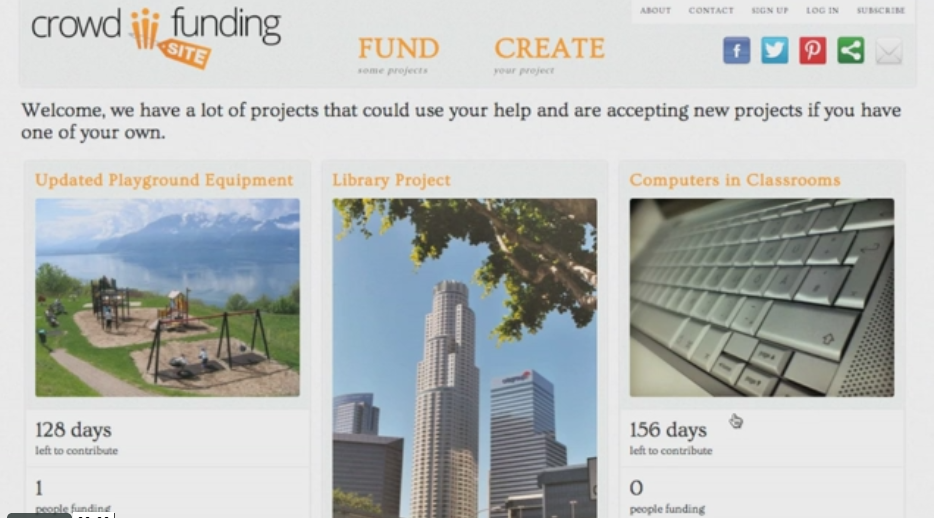 Here are some of the features:
PROJECTS: Users can submit projects to your

crowdfunding

site, embed media (videos, photo galleries, featured image), set fundraising goals, and post updates.
SPONSORS: Sponsors can register their own account to submit and manage projects, track contributions, and interact with fundraising contributors.
ACCOUNTS: Supporters can quickly and easily register an account via Facebook, edit their profile, view receipts for past contributions, and earn credit for referring friends.
ACCEPT PAYMENTS: Crowdfunding site utilizes the GBS platform and comes integrated with PayPal Adaptive Payments, PayPal Express Checkout PayPal Website Payments Pro, Authorize.net, and NMI Payments. More GBS payment gateway integrations can be purchased in the GBS marketplace.
FUNDRAISING REPORTS: From the dashboard the administrators and sponsors can see how many contributions have been made, if

minimum

and maximum contribution limits were attained, and the expiration date of the project.
SEARCH ENGINE OPTIMIZATION: Search engine optimization (SEO) is an important aspect of your fundraising business. Search engines must quickly and easily locate and index your content so people can find it. Our fundraising theme for WordPress utilizes proper standards to improve your website's visibility.
INSTANT UPDATES: Updating to a new version is a dead simple process. You just click on the update link that appears with a new version is available and you're done. There's not need to launch your FTP client and upload anything.
SUPPORT: As a member you have access to the video tutorials and documentation. Our members forum is an active community where users can interact with each other and seek assistance from our support team.
FACEBOOK & TWITTER INTEGRATION: Users can register and login

with

their Facebook account, share projects on Facebook and Twitter, as well as automatically post to their Facebook and Twitter accounts via RSS feeds.
EMAIL SUBSCRIPTION: Our

crowdfunding

theme comes with MailChimp and Constant Contact already integrated. You simply

signup

for an account with either service provider and enter your API key to being

capturing

email addresses

from

subscribers.
WEBSITE BLOG: Our fundraising theme for WordPress allows you to run your own

crowdfunding

site and blog on the same website. Blogs are an effective tool for communicating with your customers, growing a following, and improving your site's influence as a market leader.
PROJECT BLOGS: Each project has its own blog where sponsors can post updates for a given project and include

embeddable

videos or photo galleries from Flickr. The project sponsors can also reply to comments and questions from their project supporters.
UNLIMITED POSSIBILITIES: Our

crowdfunding

software utilizes the GBS platform and WordPress so you can easily add new features through the numerous GBS add-ons and WordPress plugins that are available. What's more, the software is unencrypted so you can add your own custom design or hire a proficient GBS developer to build any custom feature or design you need.
EASY WEBSITE MANAGEMENT: Our

crowdfunding

software runs in combination with WordPress providing you with a fully functional and easy to use website. There's no technical skills needed to

creating

a project, add a new page, or write a blog post. You can easily upload images, paste embed codes from YouTube or Flickr into any page/post/project, and quickly add and modify text using the WYSIWYG editor.
CUSTOMIZATION: Crowd Funding Site can be used to create a traditional

crowdfunding

website or customized to serve a single organization (e.g.

charities

, churches, etc.) with multiple fundraising projects. Administrators can easily change the logo, add a background, select font types, and choose from several color schemes. An experienced WordPress developer, can apply custom CSS/code

since

the software is unencrypted.
 Funder:  Crowdfunding theme (UoU Apps)
This theme uses the Astoundify Plugin and Easy Digital Payments, uses the Bootstrap framework.  The theme is very beautiful and user friendly.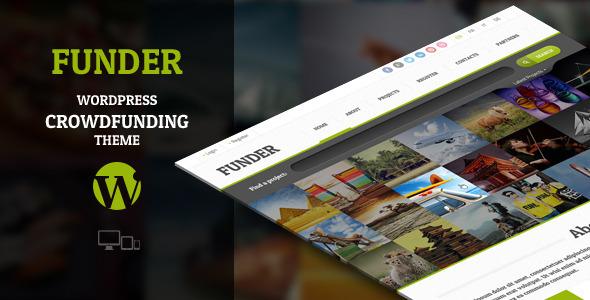 Fundingpress: Crowdfunding
Fundingpress is a WordPress theme that allows you to create your own crowdfunding site.Users will be able to create projects that are brought to life through the direct support of others.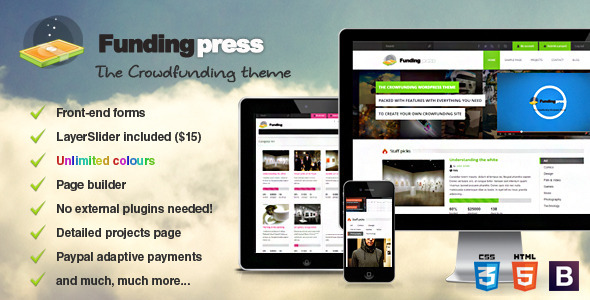 Fundify
This theme has many outstanding features and has multiple gateways to use.
Front End Campaign Submission Form

Embeddable

Project Widget, Helps Gain Exposure For Your Campaign, Embed Anywhere On The Web.
Split Payments Between Site Admin & Campaign Author (Using PayPal Adaptive Payments)
Support For PayPal Standard Payments (Free Plugin)
Supports Both Fixed Campaign Style & Flexible Campaign Style
Custom Integration for WePay Pre-Approved Billing Gateway (Paid Plugin)
Custom Integration for Stripe Pre-Approved Billing Gateway (Paid Plugin)
Custom Integration for PayPal Adaptive Payments Gateway (Paid Plugin)
XML Dummy Content Included For Easy Setup
Responsive Design (Optimized for iPad and iPhone)
Full Localisation Support (contains .

po

/

.

mo

files)
Full Design Customization i.e. Logo, Background, Text

Colours

 See Here
4+ Custom Widgets
WordPress 3.6+ Ready (Menus & Featured Images)
Page Templates (Home, Archives, Full Width, Contact Form, Login Form)
Built on the _s Theme Framework
Compatible With Our Free Crowdfunding Plugin
Extensive Documentation
Supports 20+ Payment Gateways i.e. Stripe, Google Checkout,

etc

(From EasyDigitalDownloads.com)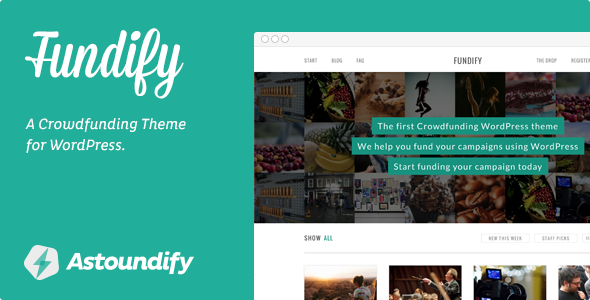 Franklin Crowdfunding Theme
This theme is responsive, elegant, and light theme.  The main features are: unlimited colours with 6 pre-set colour palettes, 8 background textures, 5 custom widgets (Campaign Updates, Campaign Video, Campaign Pledge Levels, Campaign Backers, Sofa Posts), widgetzied campaign page, blog section and more.